PHOENIX D385 Portable Desiccant Dehumidifier
Portable Desiccant Series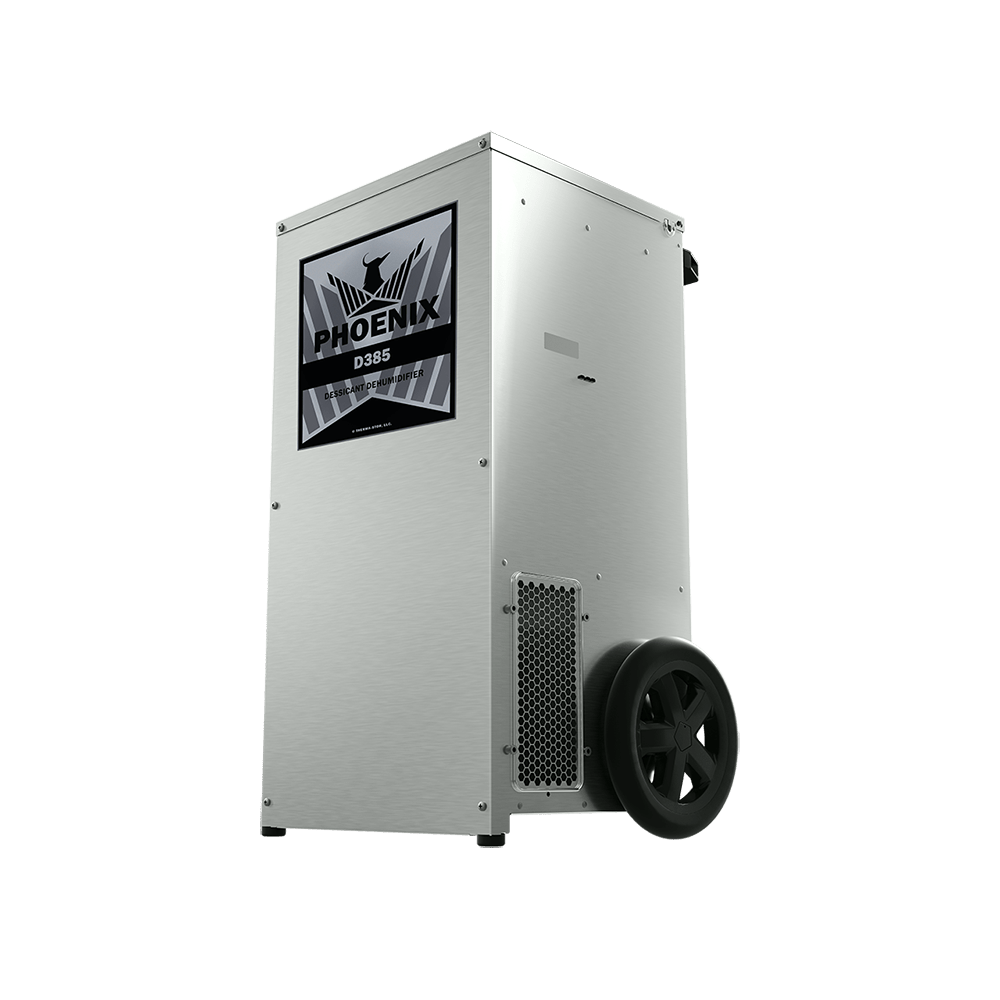 The perfect combination of features and performance
Xactimate WTRDHMD Code
385 Process CFM
130 Pints/Day
24
AMPS
Stop Rubbing Your Eyes—These Stats Are Real.
The Ultra-low grains of a desiccant with the water removal capacity of the largest LGRs
The Phoenix D385 is not like the "toy" portable desiccant dehumidifiers that lack real capacity. The D385 delivers 385 CFM of ultra-low grain process air.
The true four-hole configuration allows the Phoenix D385 to be located in the affected area with the 75 CFM re-activation air stream isolated from the drying chamber. The four-hole design allows the restoration contractor to set up for effective positive, neutral or negative pressure operation.
Place it any which way
Ingeniously designed to operate vertically or horizontally, the D385 will fit inside most crawlspaces. Versatility for the win!
LOW PRICE, HIGH PERFORMANCE
You can purchase three Phoenix desiccants with a higher combined capacity for a smaller investment than a single 1000 CFM competitive desiccant.
See the PHOENIX D385 Portable Desiccant Dehumidifier in action
Product Specifications
Power
2 Circuits: 12 Amps, 115 VAC Each
24 Amps Total Power Consumption
Water Removal
130 PPD at 80°F/60% RH (AHAM)
CFM
385 CFM Process Airflow
75 CFM Reactivation Airflow
Ducting Options
Process Inlet: 12" Flex-Duct (Optional)
Process Outlet: 10" Lay-Flat Collar (Optional)
Reactivation Inlet: 6" Flex-Duct (Optional)
Reactivation Outlet: 6" Flex-Duct (Required)
Unit Dimensions
Width: 24.25"
Height: 40"
Depth: 21.375"
Weight: 105 Lbs.